A NOTRE FETE NATIONALE FRANCAISE DU 14 JUILLET /
AT OUR FRENCH NATIONAL DAY July 14th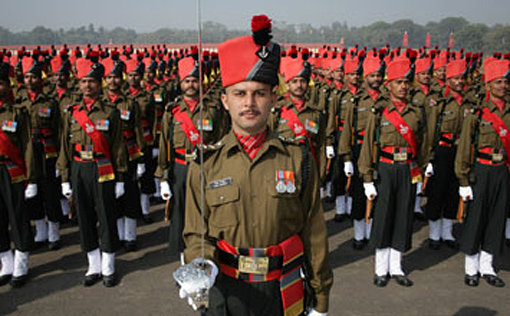 L'Armée indienne /
The Indian Army
Au total, 279 soldats indiens et 93 musiciens vont parader devant plusieurs dizaines de milliers de spectateurs, et devant les caméras françaises et étrangères. /
So, 279 Indian soldiers and 93 musicians are going to parade in front of several tens of thousand spectators, and in front of the French and foreign cameras.
Les Soldats indiens qui défileront viennent du Maharashtra, sur la cote Ouest de l'Inde; état d'origine de notre petite famille donc demain nos fibres patriotiques respectives seront actives. /
The Indian Soldiers who will march come from Maharashtra (Western coast of India); state of origin of our small family thus tomorrow our respective patriotic fibers will be active.
NB :

L'armée indienne est la 3e plus grande armée du monde, derrière les USA et la Chine. /

The Indian army is the 3rd the biggest army of the world, behind the USA and China.



Chaque année, les marins indiens et français se retrouvent pour des exercices militaires. Cette année, c'était au large de la Bretagne que l'exercice Varuna s'est déroulé - Varuna, dieu aux mille yeux, dieu de la mort... /

Every year, the Indian and French sailors meet themselves for military exercises. This year, it was off Brittany where the exercise Varuna took place - Varuna, god of thousand eyes, god of death...




Et petite note d'histoire en 1914, alors que l'Inde était sous occupation anglais, deux divisions d'infanterie indienne ont été envoyées à Marseille et ont participé au coté des troupes françaises à la première Guerre mondiale. Pendant la Seconde Guerre mondiale, ce sont près de 2,5 millions d'indiens qui combattent en Europe. /

And small note of history in 1914, while India was under English occupation, two divisions of Indian infantry have been sent in Marseille and participated along with the French troops in the first World war. During the Second World war, it is about 2,5 million Indians that fight in Europe.



BONNE FETE NATIONALE /
HAPPY NATIONAL DAY